Cost Effective Basico Banner Bracket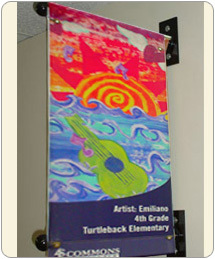 If you are looking for an economical, heavy duty stock banner bracket, the Basico is your solution. Constructed from steel, this all metal design will withstand outdoor conditions for years. With visible hardware, the Basico banner bracket will mount to either a street light pole or wall. For maximum durability, the banner arm is made from 1" high strength aluminum and a powder coat finish is finally applied.
Basico banner bracket features and options include:
Set Design - Single, Double, or Tapered
Color - Black
Material - Steel
Mount - Light Pole and Wall
Arm Length - Standard 24" Length / Several Alternative Lengths Available
Please call us at 800.395.2468 or inquire on our Contact Form if you have any questions about the Basico banner bracket or our custom sizing options. We would be happy to assist you in all your light pole banner needs.