Banner Wall Mounts & Hardware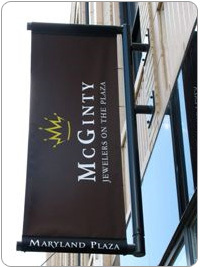 Displaying attractive banners is the perfect way for getting your business noticed on a busy street and dressing up your store front. Instead of unremarkable 2 dimensional signs hanging in your window, make your banners pop by mounting banners on your store front wall with our steel wall mounts.
The bracket plates are constructed from steel and measure 8" x 8" x ¼" to ensure durability. Mounting holes are slotted 3/4" up and down so brackets can be pulled tight after installed. Standard steel wall mounts will support banners up to 36" x 120" and are in-stock and ready to ship within 24 hours of purchase. If you have a banner outside the measurements that the standard wall mount can support, we can manufacture custom steel wall mounts and construct arms up to 38" long.
Call us today at 800.395.2468 or inquire on our Contact Form if you have any questions about our stock wall mounts. We can also help you if you need custom wall mounts manufactured according to your specifications.
McGiny Wall Mount Bracket:
For a 30" X 72" banner
$450 each


ORDER FORM