Customize Your Own Light Pole Banner Bracket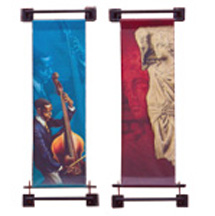 Whether you have architectural and ornamental specifications or sizing issues, LightPoleBanner.com has the ability to custom construct banner brackets of any type. No matter what the size of your banner or light pole is, we will design a banner bracket that will work for you! With our Computer Aided Cad Machines we can fabricate durable, quality banner brackets for even the most challenging assignments.
Choose your own size, color, finish, decorative hardware, and arm length to get one-of-a-kind, designed banner brackets. And you won't have to sacrifice durability with a custom banner bracket because all of our custom banner brackets are constructed from ¼" steel plates with a 1.25" square steel tube that is meticulously welded completely around the perimeter of the tube so everything is uniform and strong.
Call Zane Williams at 800.395.2468 or fill out our Contact Form to start your custom made light pole banner bracket design today. Our sales associates would be happy to answer all of your questions and help you utilize your area light poles by effectively displaying banners with banner brackets.